Latest update: Sunday 17th February

Nina and Chris Corey would like to thank everyone who visited their rag rug making stand at the Creative Craft Show at Event City, Manchester. They had a great time and hope everyone else did as well and all the new rag rug makers also love the craft.
Thanks very much to Sheena Groom who visited the stand and, later, sent this photo and comment.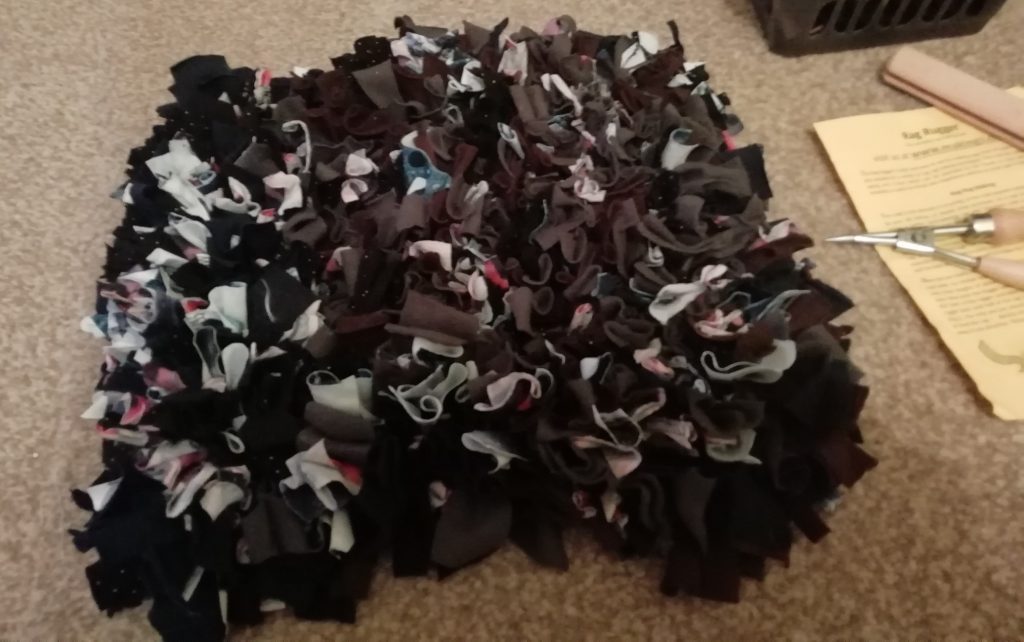 Sheen said:
Hello, I was chatting to you on the stand on Thursday at event city. I was talking about the cute doggy piccys. I've bought a kit at previous show n just finished a small rug for my cats bed. You'd said to send a piccy, so ere it is! Lol, not big but I'm pleased with it. The tools are great and easy to use.
Thank you
Somebody has to say it…That rug looks purrrfect for a cat's bed!
---
Also still haven't added the new 12oz hessian [to go with our new 6mm fine hook for rag rug making on a finer scale] to our shop. Sorry – it's that time of year when everything gets very busy [no complaints on that score, though!]. In the meantime we can still take orders for it by phone [07796112366 or 01566 779136].
---
More news from Chris Corey – rag rug making enthusiast, demonstrator, teacher and in charge of getting all our orders posted promptly! Chris is making more of her other craft passion: making Mosaics using up-cycled crockery; her website is fragment2form.co.uk 
---
Hooray!  At last we've just got our new 6mm rug hooks listed for rag rug making on a finer scale – the existing, 8mm, ones are very popular, we're very glad to be able to say, but a number of people have asked for a smaller size. Now, after much setting up and testing, the first lot are available and are the same price as our standard ones.
---
---
Some of the latest pics visitors have kindly sent us. Plenty more in our

Gallery
Writing on the rug
Janet White sent us a pic of her latest rug. Clever stuff and a beautiful rug. Her take on tile art. Looks like Janet's made rag rug making mightier than the pen!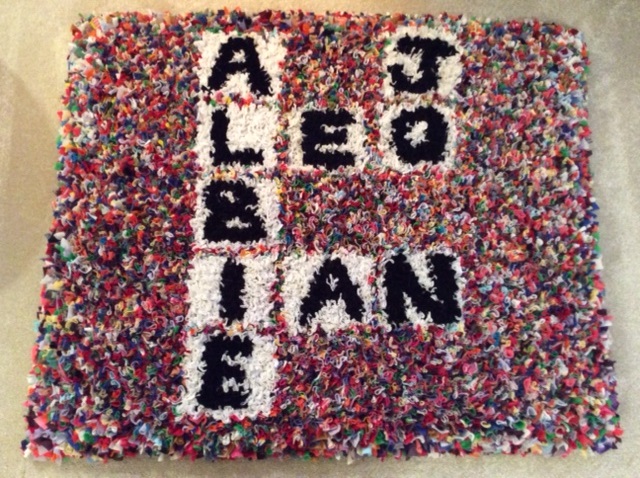 ---
Sandra Smith sent us this email: "Thank you for the super fast delivery of my rag rugger tool, I am eager to put it to good use very soon. I have already made two rugs from Harris twead fabric which is just waste from my sons upholstery business.So it's win win as nothing going into landfill and it is making a useful rug at no extra cost."
Sandra also sent us these two pics [pretty good use of scrap material!]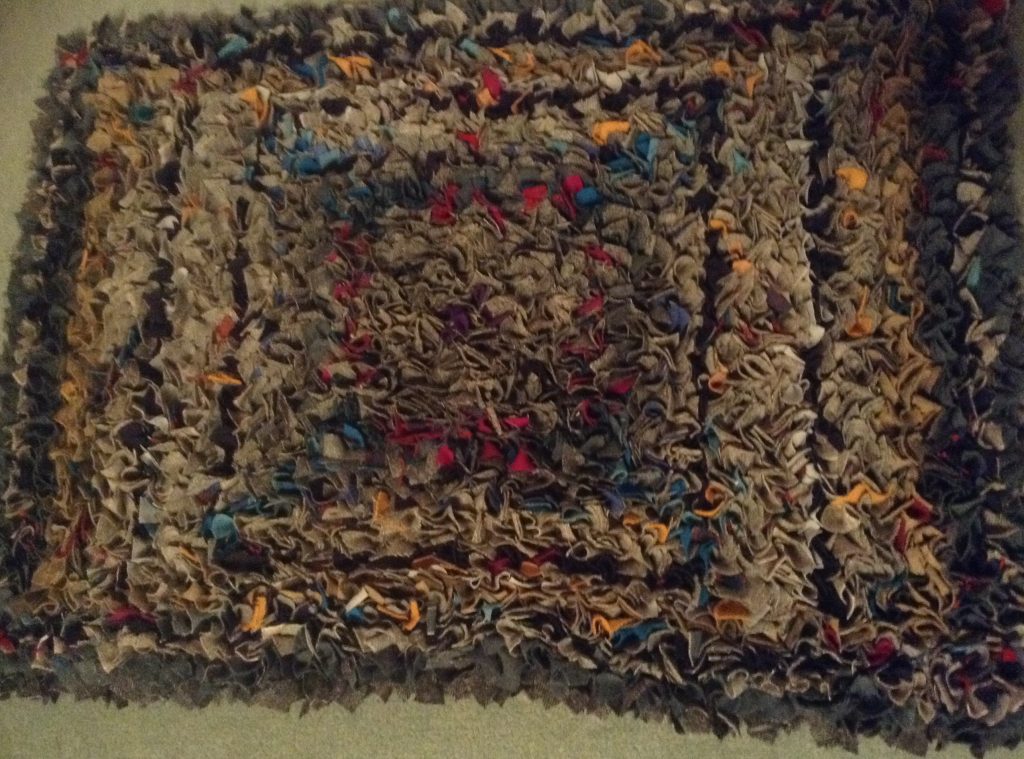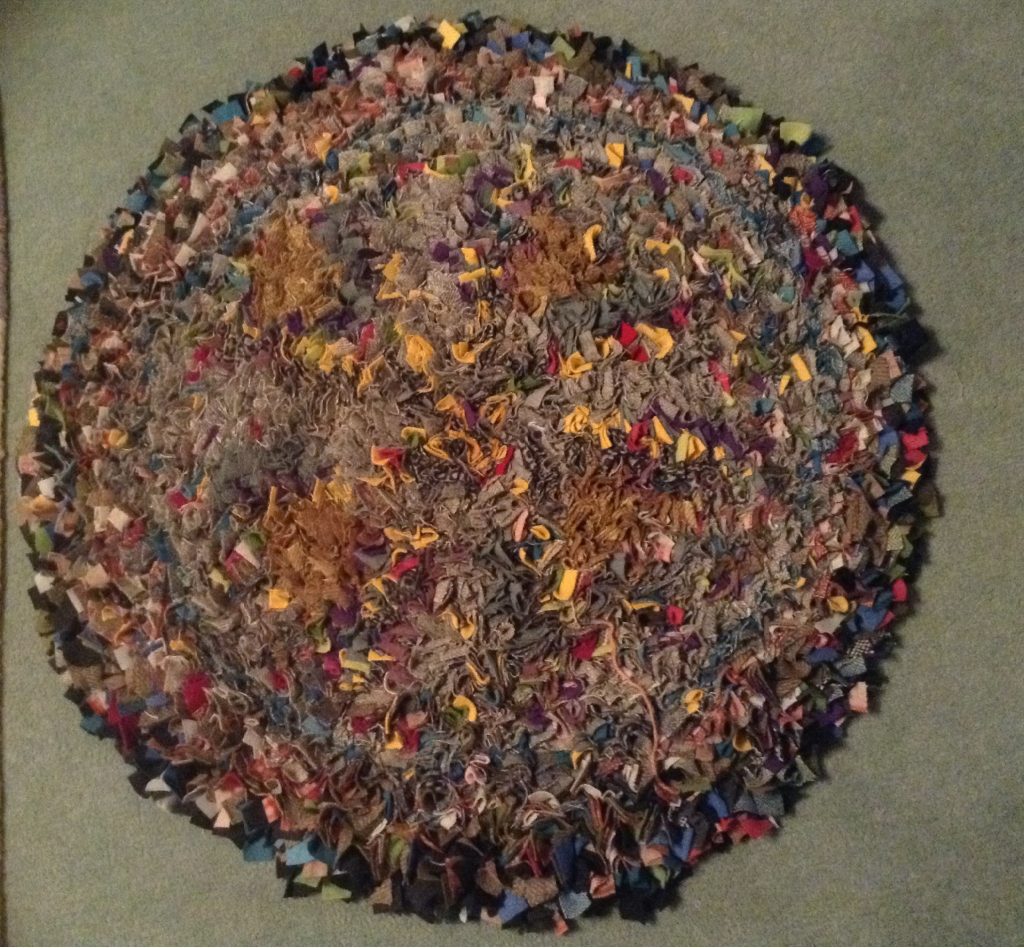 ---
A rag flower
Latest pic from Ruth Bartholomew just goes to show rag rug making doesn't have to be for something to stand on, it can be 3D art!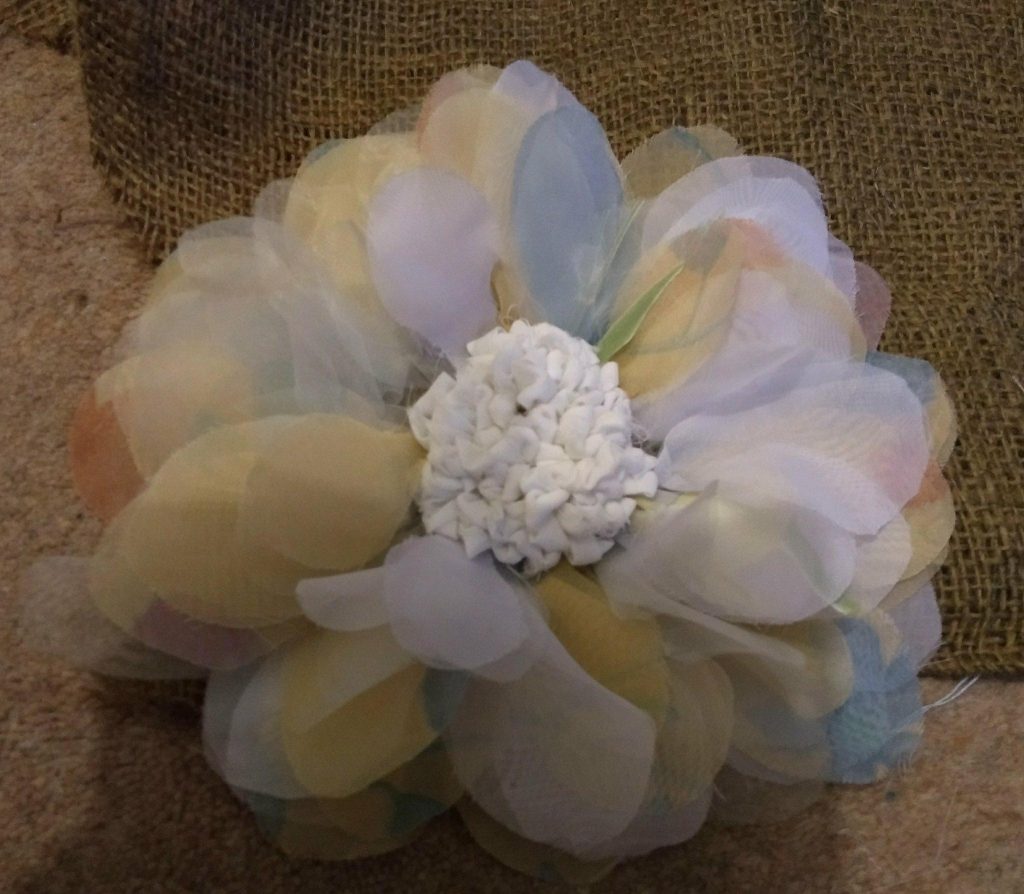 ---
Making best use
Ruth Bartholomew kindly sent us these pics of 3 rugs she's made. Ruth says she cut old garments into long strips for crocheting and uses small pieces for making rag rugs. We like that – nothing goes to waste!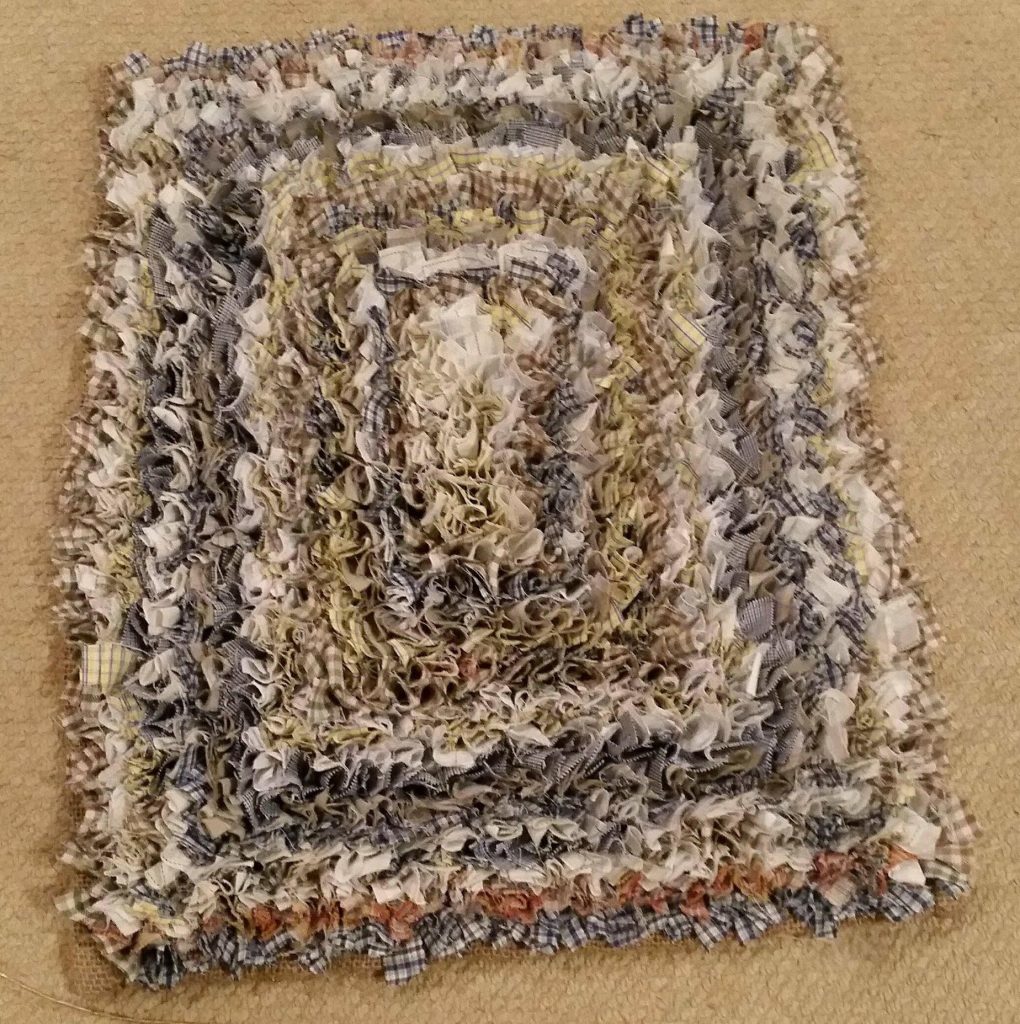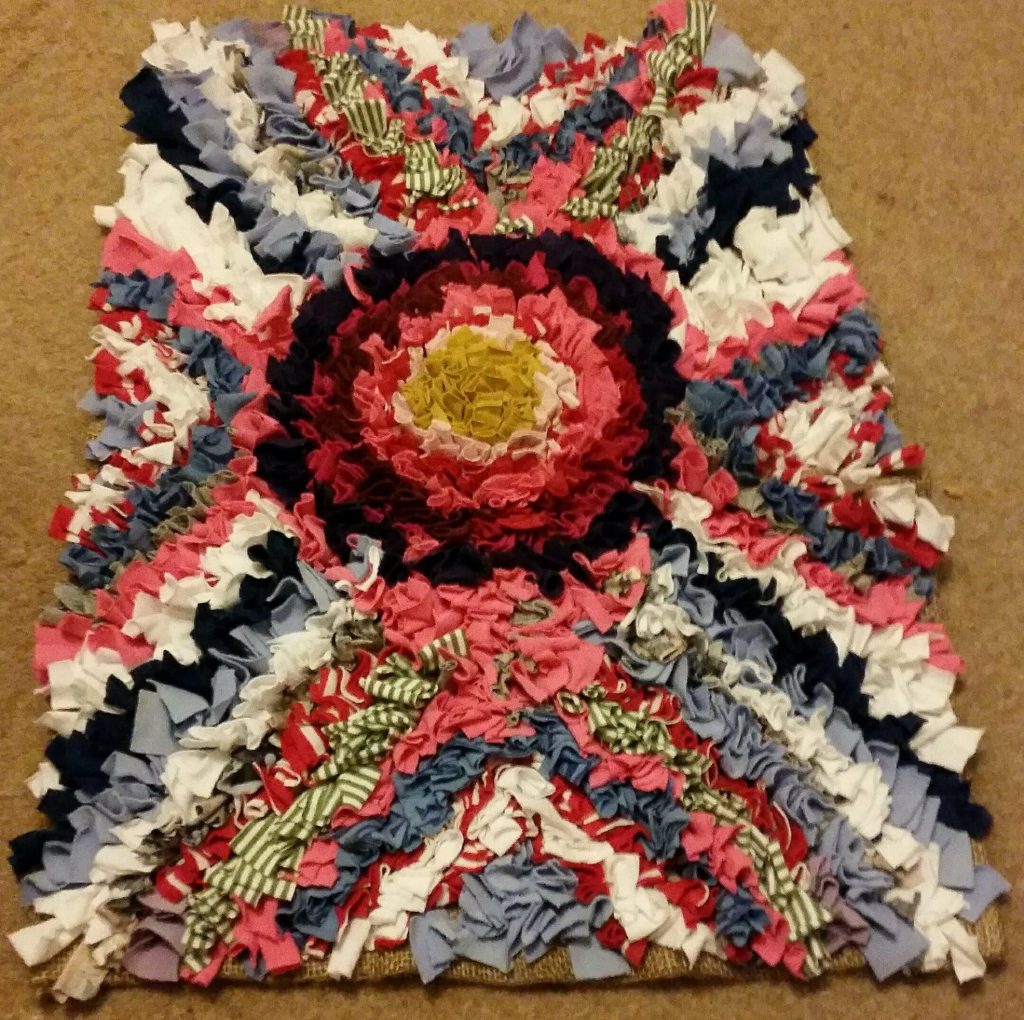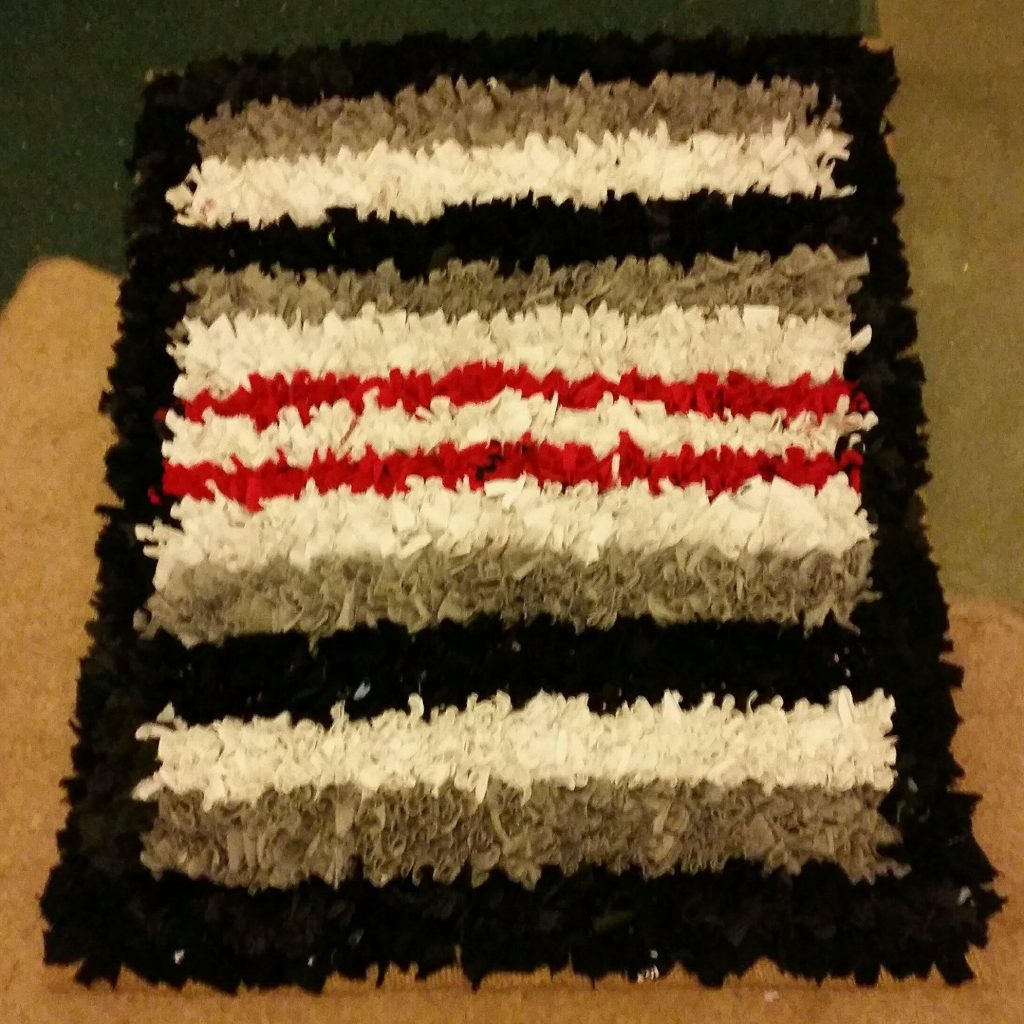 ---
It's amazing what a bit of rug hooking can do!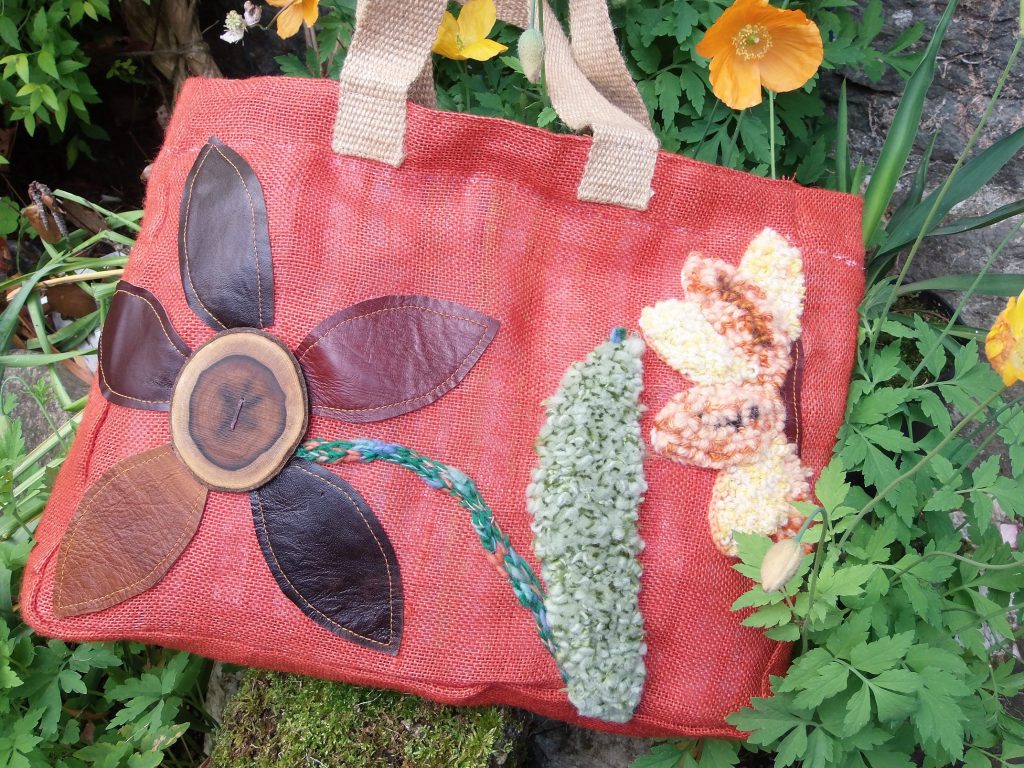 Bag decorated by Jude, in Gwynedd.
---
Rug made for mining museum
Brian Naylor made this rug, and others, for Lancashire Mining Museum, in Astley. What a great way to make use of a hobby. More pics from Brian in our
gallery
.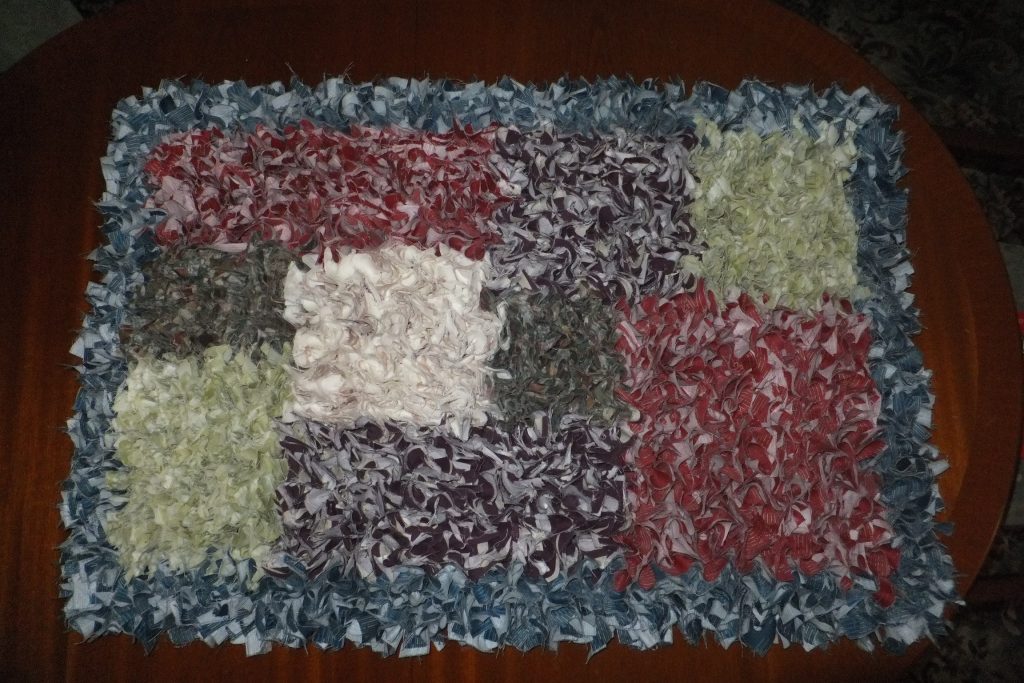 ---
Heritage clock
Janet White shared this pic of the rag rug clock face she made, using Leeds Rhinos colours, showing the time her grandson was born. What a brilliant idea and a beautiful rug! There's always time for rag rugging!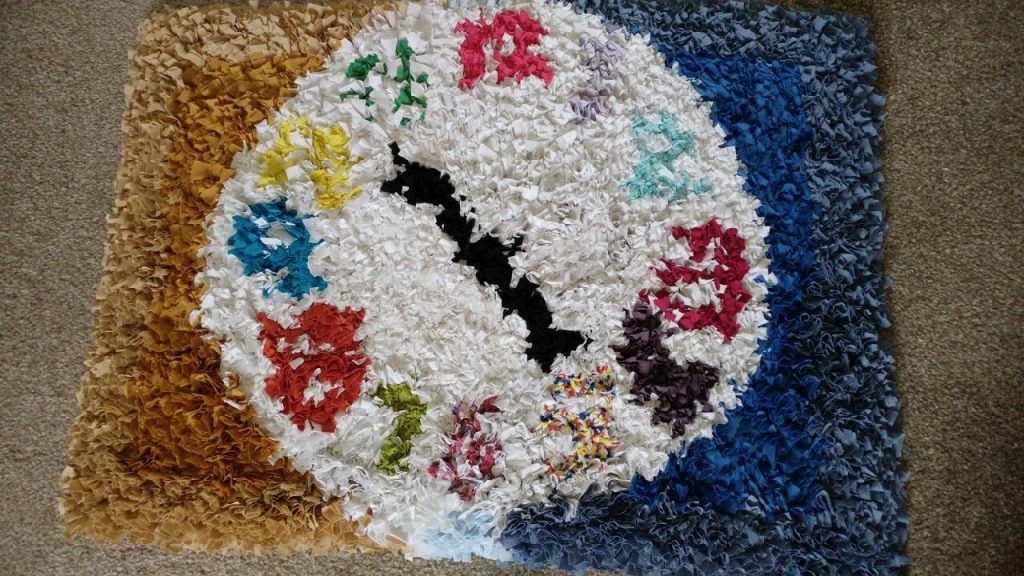 ---
Rag rug for camper
Judith visited Nina & Chris on their Stitches Show stand at Westpoint, Exeter and decided to make her own rag rug for her camper conversion. She made it over a weekend and kindly send us a pic of it. Very attractive it is, too. Thanks, Judith!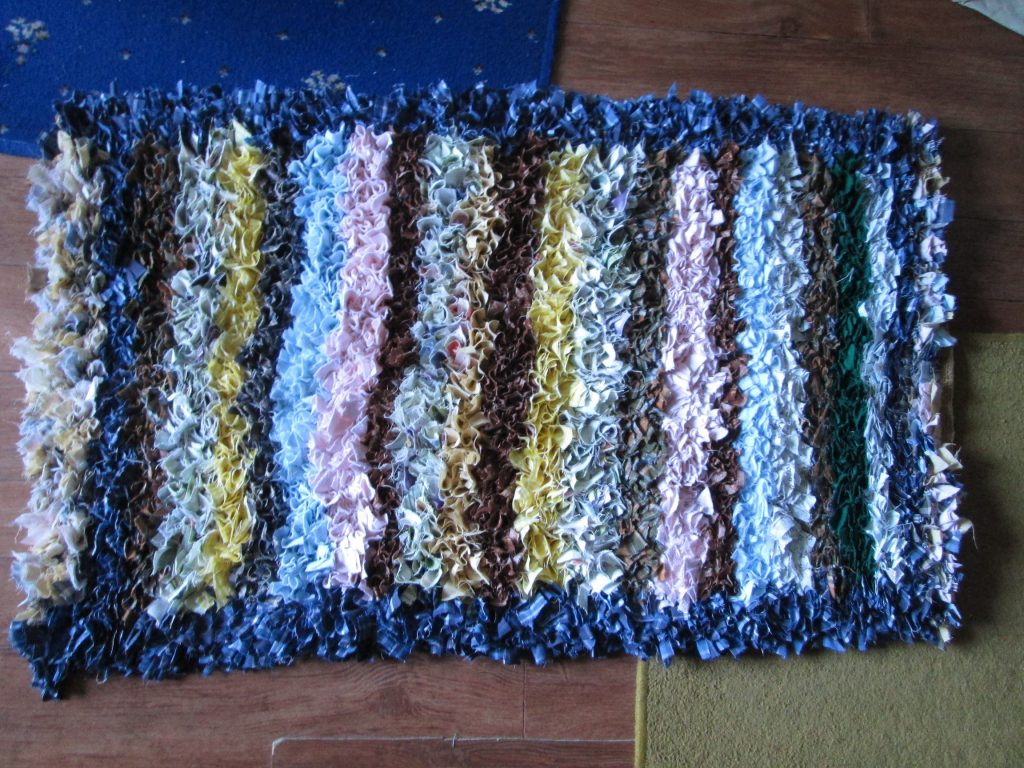 ---
---
Rag rugs, rag rugging, rag mats, clippy, spring clip, clootie, proddy, proggy, bodged, peg, pegged – call 'em what you like, this site is all about the old favourite 'hard times' rag rugs and how to make them. We make a range of rag rug tools to our design including our rag rugger [as used by Kirstie Allsopp on her craft series a little while back], cutting gauge, hook and more. We can also offer expert advice on virtually all aspects of rag rug making. We've made all the tools ourselves for over 25 years when we revived the traditional UK 'hard times' craft by redesigning the Victorian tool for the modern age, it still works in exactly the same way though.
Please visit our Facebook page and add your comments, questions, likes and images of your own rugs. We are also on Twitter.
---
How to contact us
Phone: 07796 112366 / 01566 779136
OR