Latest update: Saturday 21st April

Nina Corey, with help from Chris, will have a stand at ICHF's Creative Crafts Show at ExCel, London 19th – 21st April. She'll have rag rugs and materials and tools, like rag ruggers and hooks, and plenty of advice so everyone is welcome to have a try for themselves. They're on stand C26.

---
---
Some of the latest pics visitors have kindly sent us. Plenty more in our

Gallery
 It's amazing what a bit of rug hooking can do!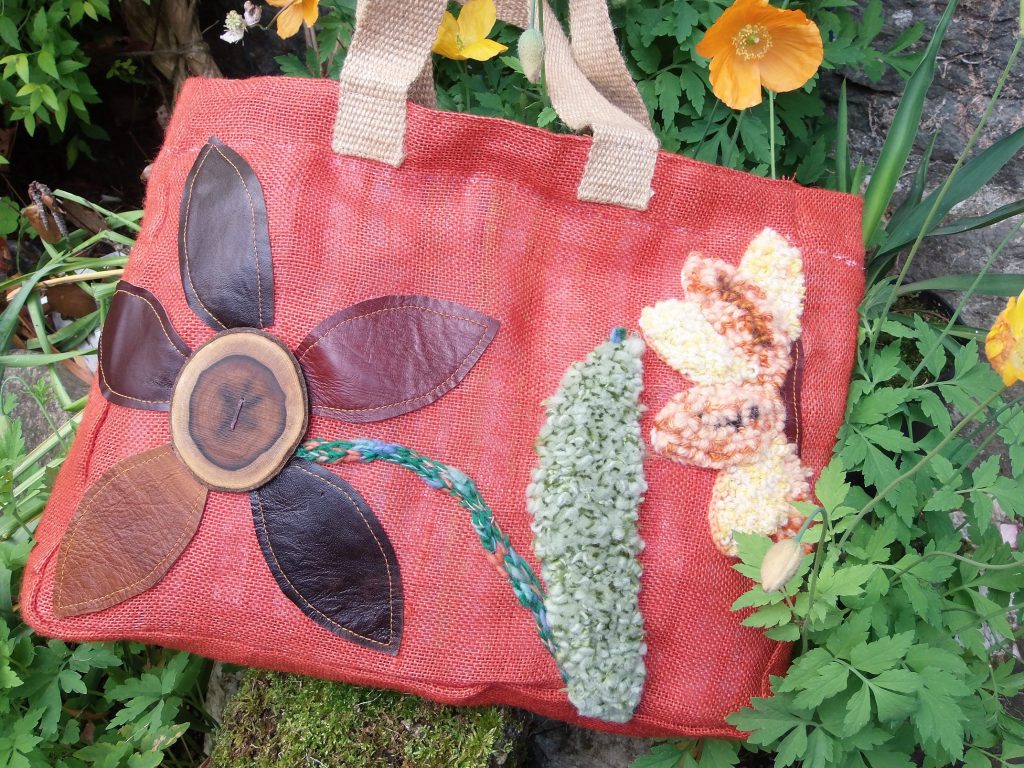 Bag decorated by Jude, in Gwynedd.
---
Heritage clock
Janet White shared this pic of the rag rug clock face she made, using Leeds Rhinos colours, showing the time her grandson was born. What a brilliant idea and a beautiful rug!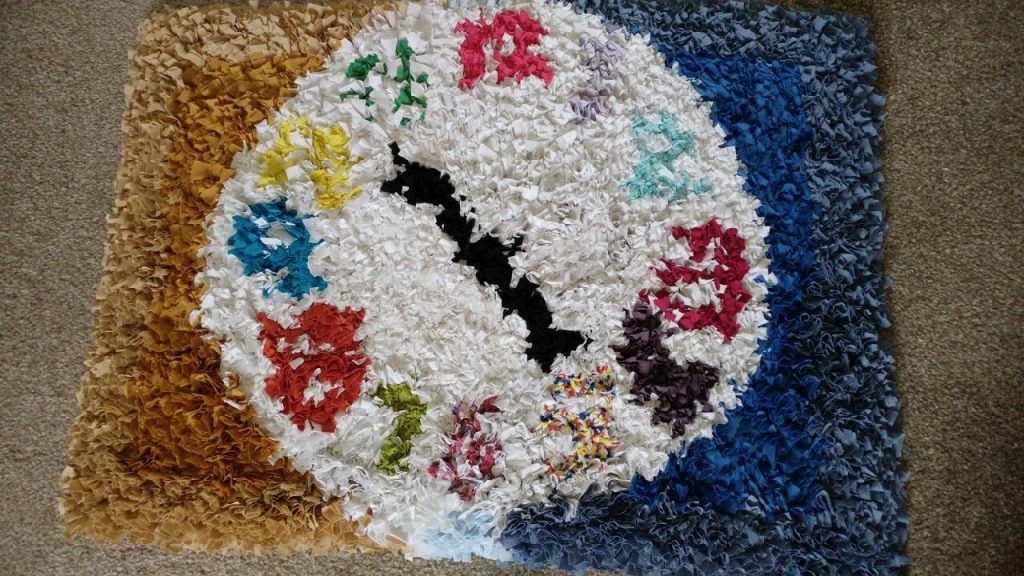 ---
Rag rug for camper
Judith visited Nina & Chris on their Stitches Show stand at Westpoint, Exeter and decided to make her own rag rug for her camper conversion. She made it over a weekend and kindly send us a pic of it. Very attractive it is, too. Thanks, Judith!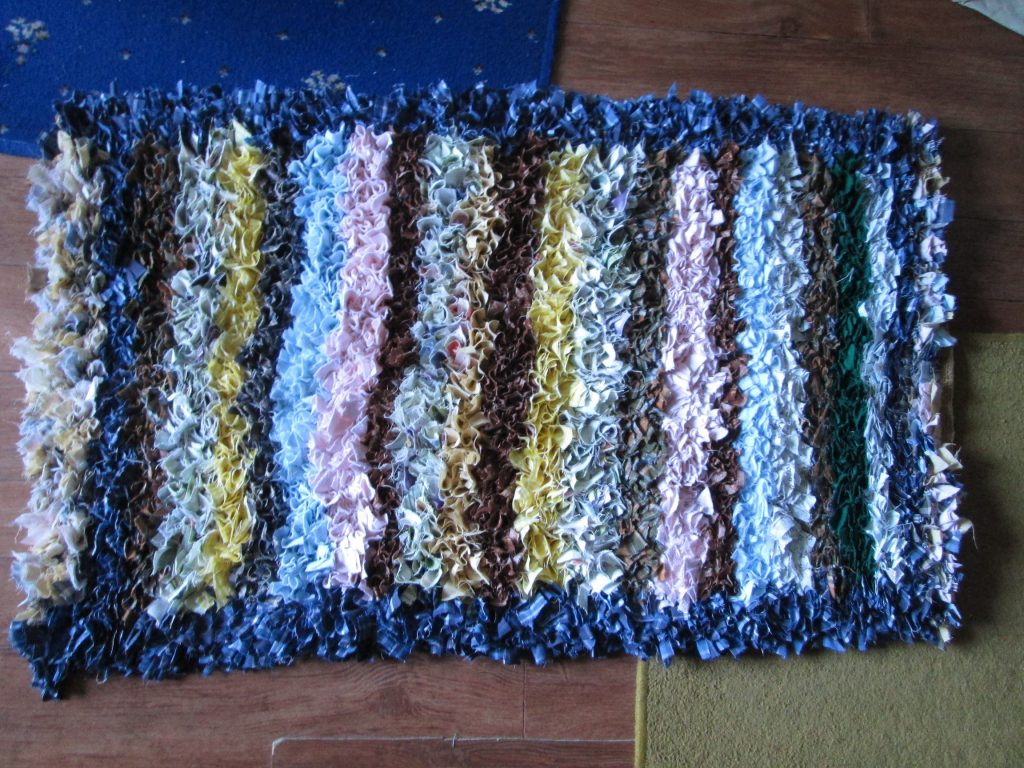 ---
Planets rug made by Janet White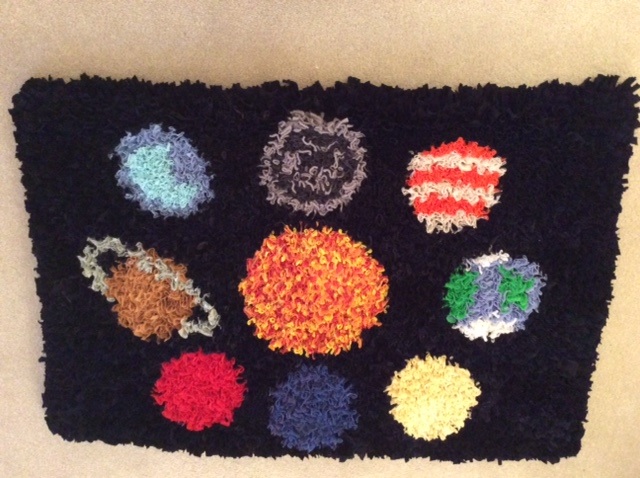 Another gorgeous rag rug made by Janet. It's her latest project made for her Grandson. Lucky boy!
---
And here's the back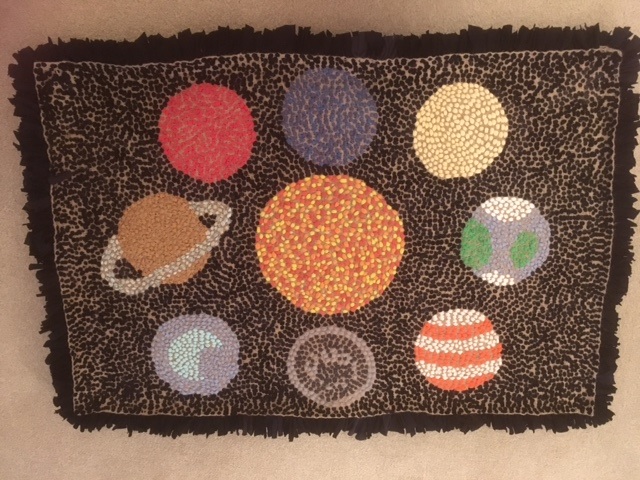 It's a brilliant rag rug whichever way you look at it!
---
Wreaths made by Cherry Abrams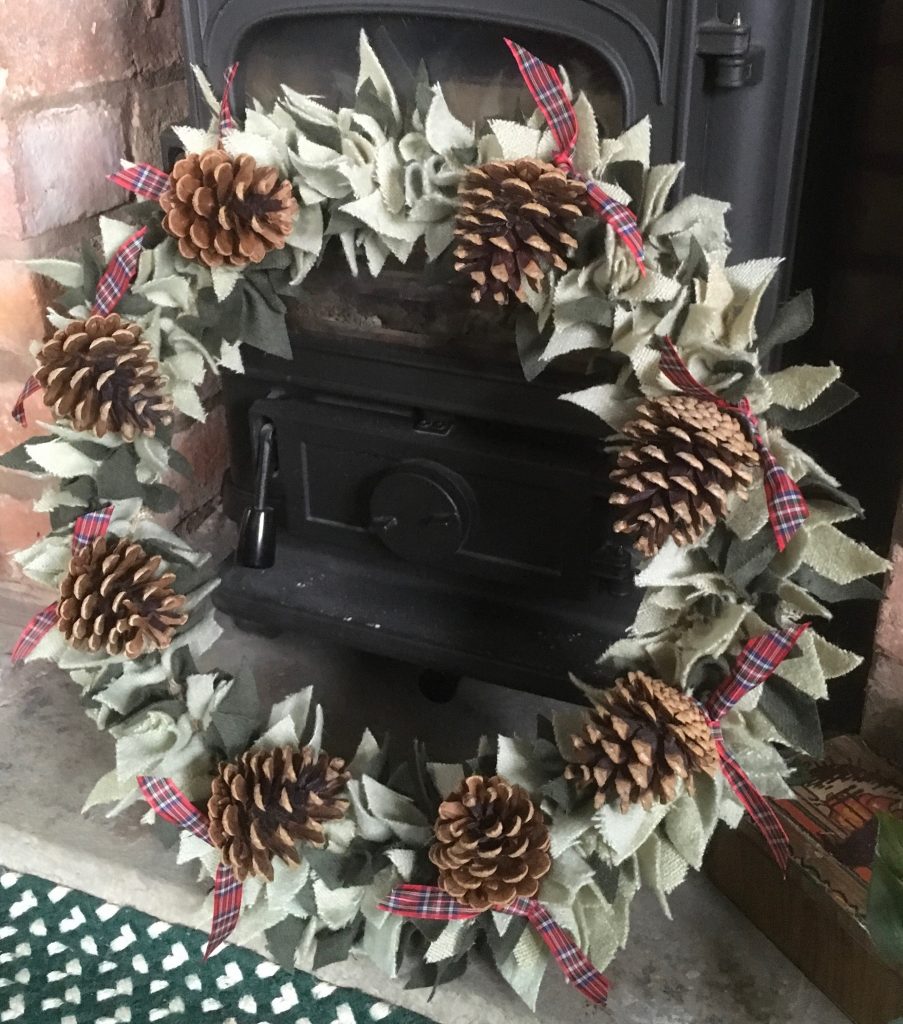 Very Christmassy!
---
Great for any time of year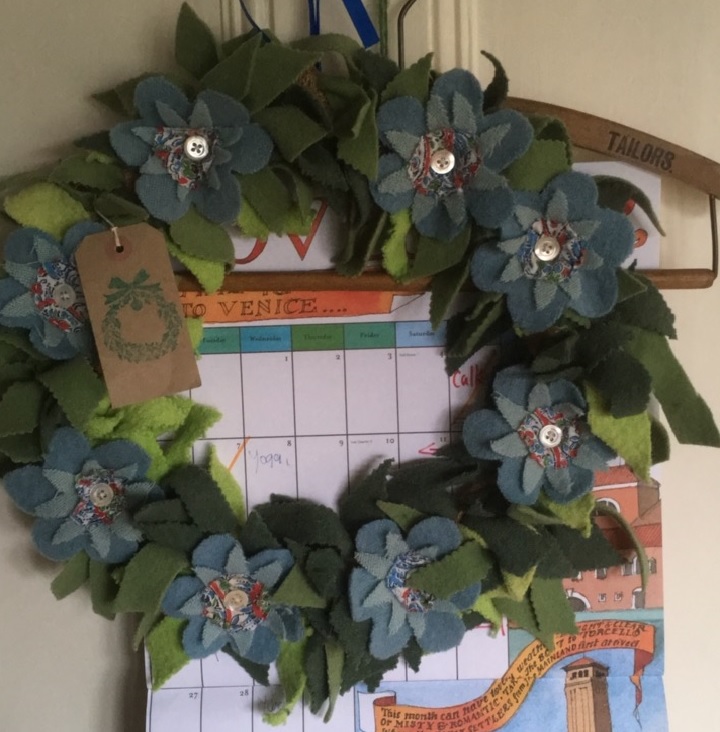 ---
Work in progress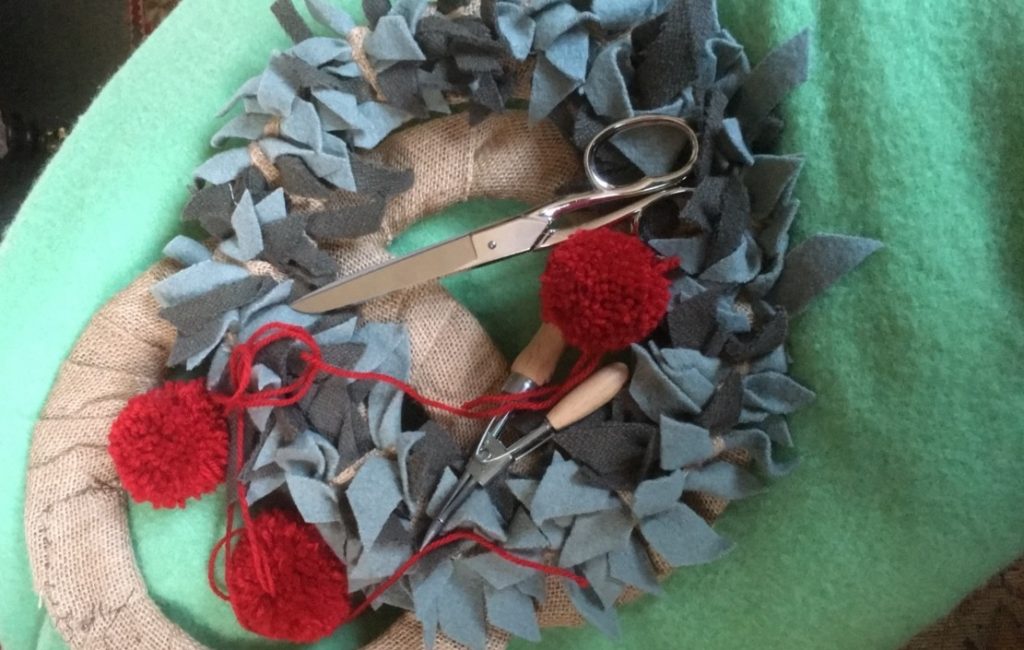 Cherry uses an alternative method to make her wreaths:
She turns in and presses the edges, of the hessian, to stop it from fraying before binding the wreath wire.
Then she adds the fabric with the rugger. For her wreaths she uses pure wool upcycled from blankets and throws scarves etc. She often cuts the fabric with pinking shears to make it look like 'leaves' Then if she wants to fix cones or baubles to the wreath I wire them on with florists wire and fix with a vintage button.
We have to say – it certainly works and looks good! For another method please click here
Thanks very much indeed to Cherry for the pics and info and for letting us use it.
---
Spring Wreath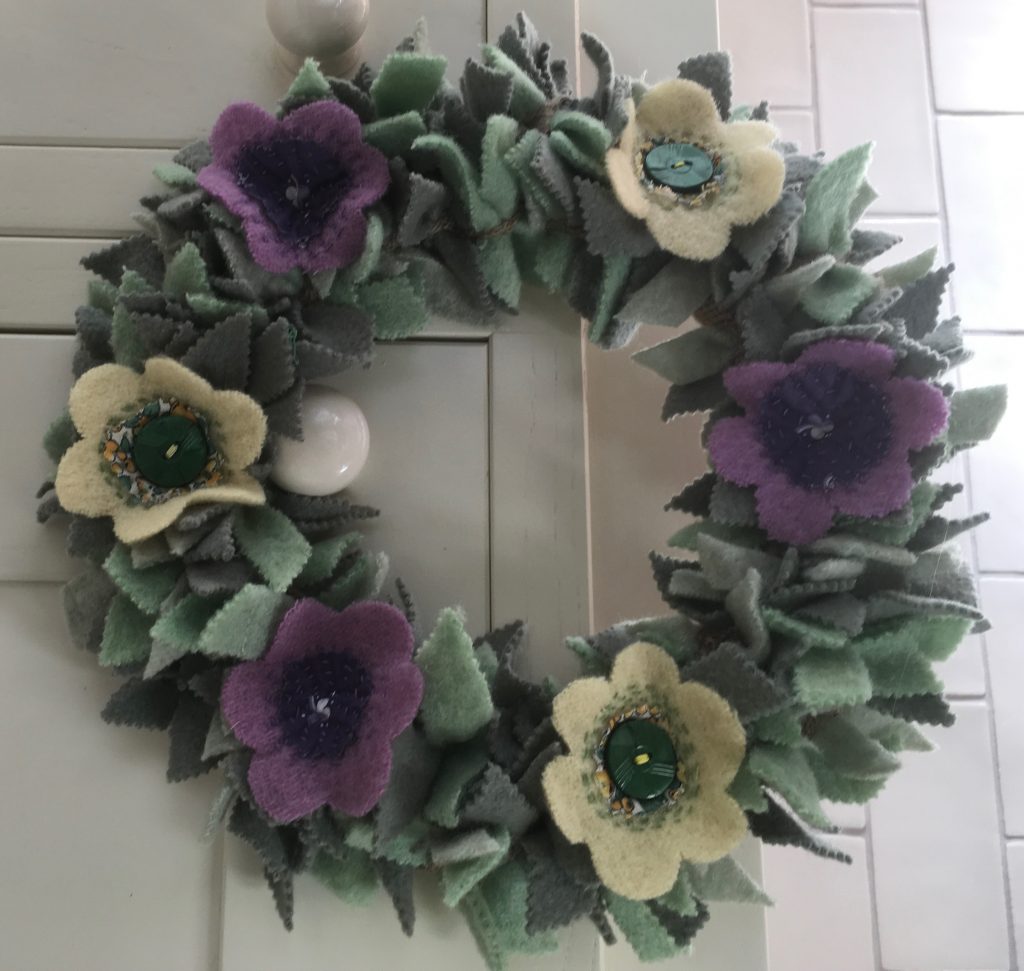 Another lovely wreath by Cherry Abrams, this time it has a spring feel. Just the thing to look forward to in early Feb. Cherry runs wreath making workshops at her local Sue Ryder vintage charity shop in Leicester. If you want to contact her this is her email: cherryabrams@hotmail.co.uk
---
Rose wreath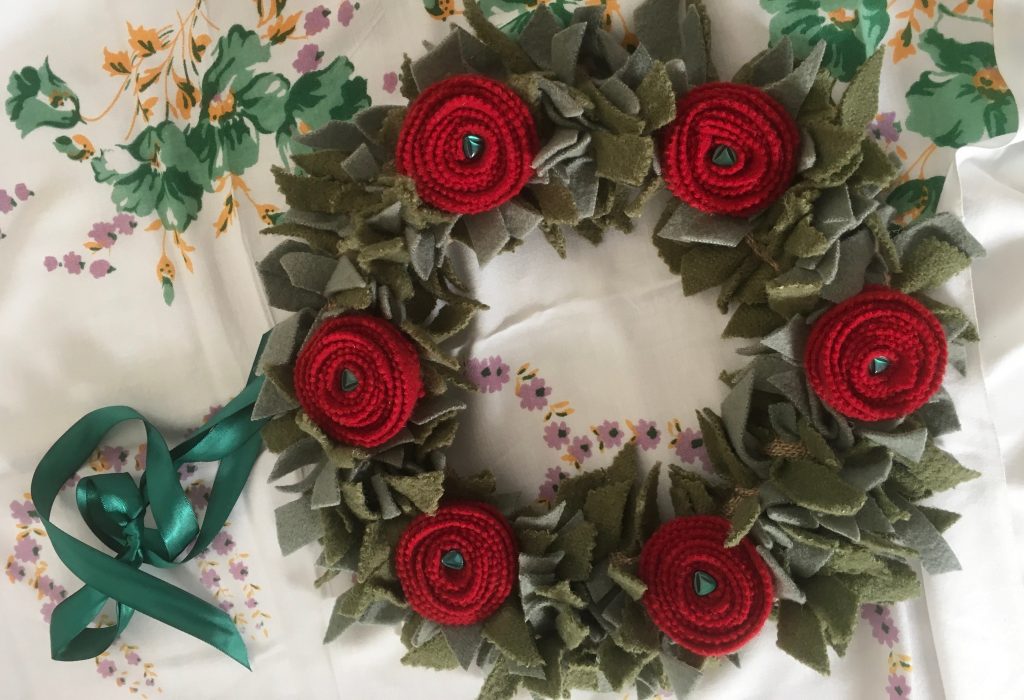 Latest pic from Cherry. Once it's spring you get roses! Ideal.
---
A crafty look at a pic from Cherry's brochure for her workshop in May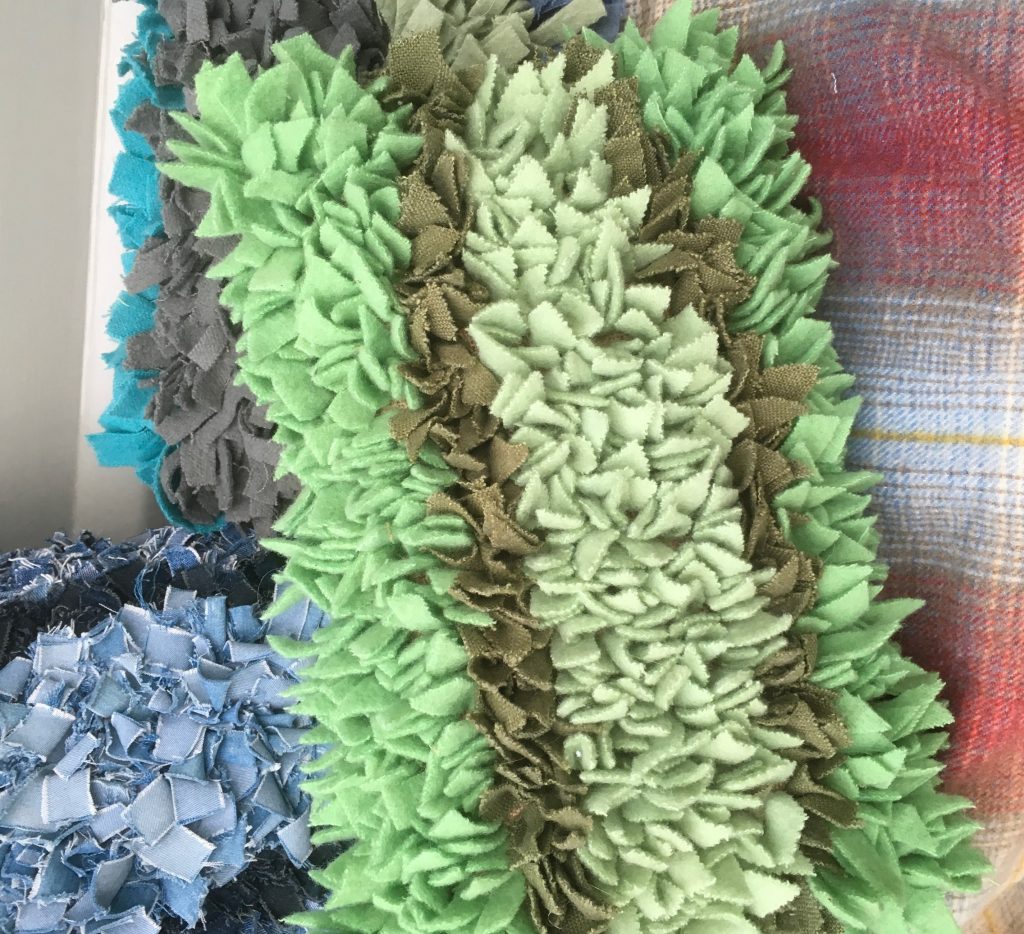 ---
---
Rag rugs, rag rugging, rag mats, clippy, spring clip, clootie, proddy, proggy, bodged, peg, pegged – call 'em what you like, this site is all about the old favourite 'hard times' rag rugs and how to make them. We make a range of rag rug tools to our design including our rag rugger, cutting gauge, hook and more. We can also offer expert advice on virtually all aspects of rag rug making. We've made all the tools ourselves for over 25 years when we revived the traditional UK 'hard times' craft by redesigning the Victorian tool for the modern age, it still works in exactly the same way though.
Please visit our Facebook page and add your comments, questions, likes and images of your own rugs. We are also on Twitter.
---
How to contact us
Phone: 07796 112366 / 01566 779136
OR