Home of UK rag rug making tools latest update: Tuesday 11th February
---
We've just run out of our [newish] fine hooks. We've had an unexpectedly high demand for them lately and got caught unawares! We're making more as soon as we can and will post again when we have them. We're very sorry for any inconvenience in the meantime. 
Everything else, including our standard hooks, is in stock and we're still sending all orders the same, or next, working day.
---

Thanks very much to Janet White for this pic. Janet has made very crafty use of her rag rug making supplies to please her domino mad family. That should do the trick and we're resisting the temptation to say it's a dotty idea!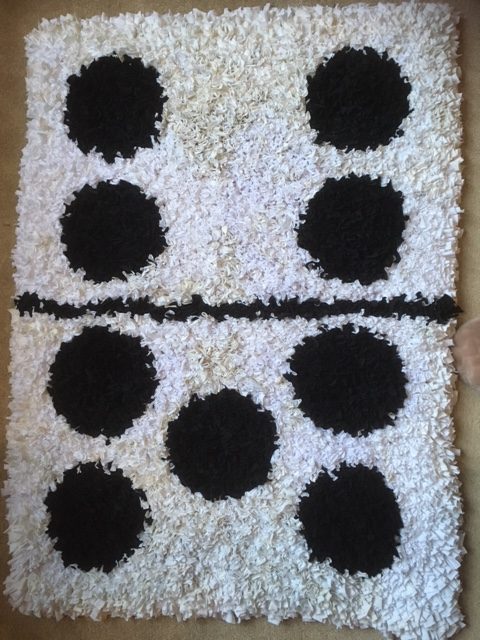 ---

Here's some timely inspiration: Rachel Lockwood saw a rag rug offered for sale in a market and got the idea to make one herself. She bought the necessary, from our online shop, in October and has made the 1 metre x 1.5 metre rag rug pictured below for her daughter. Wow! Thank you so much, Rachel, for letting us share the picture.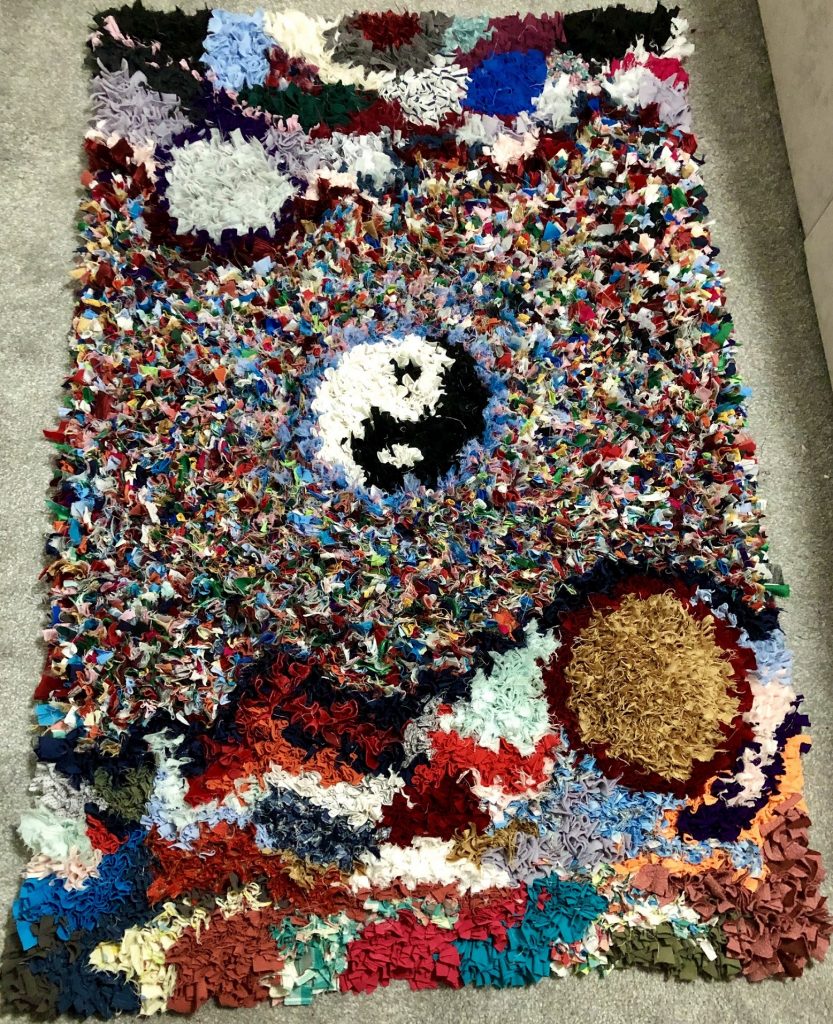 ---
Kath Mayall sent us a pic of this rag rug from her project to offer help to people in Gambia by bringing the rugs they've made back to the UK and forwarding them all the money. It's a beautiful rug, as ever. The very best of luck to her. More from Kath.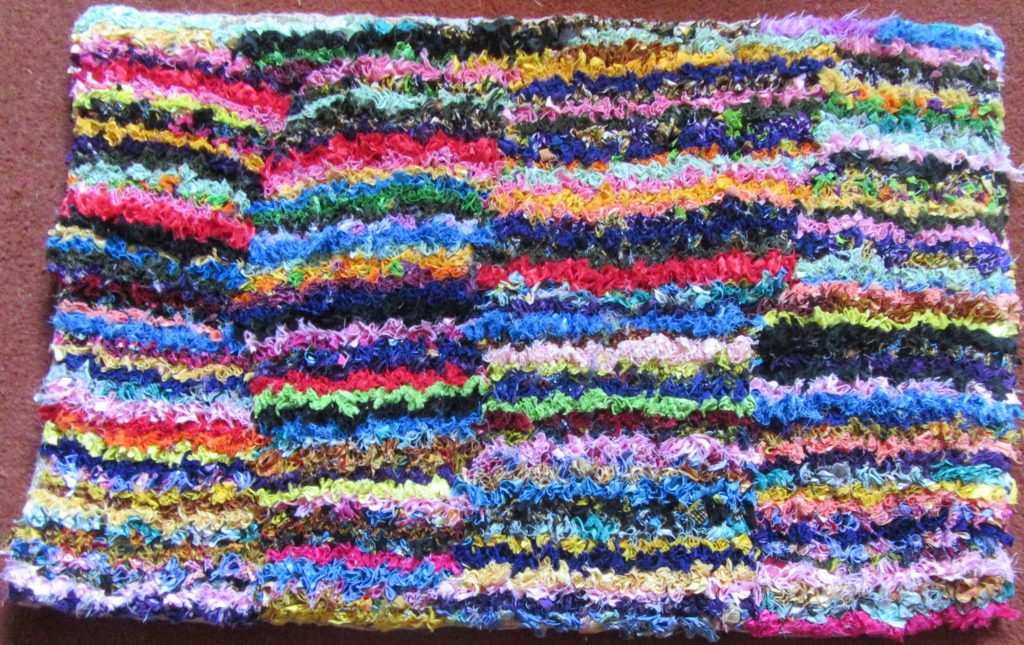 ---
Here's a brilliant idea sent to us by a customer who bought a rag rug making kit from Nina at her stand at Event City Manchester recently. Nina's customer prefers not to be named but we couldn't resist sharing the idea: tiny rag rugs made to protect a new laminate floor from the feet of a bed. You just know shop-bought floor protector cups will be made from plastic which makes this idea doubly good. Check out the pic:
By the way, we'd love to share any more ideas like this.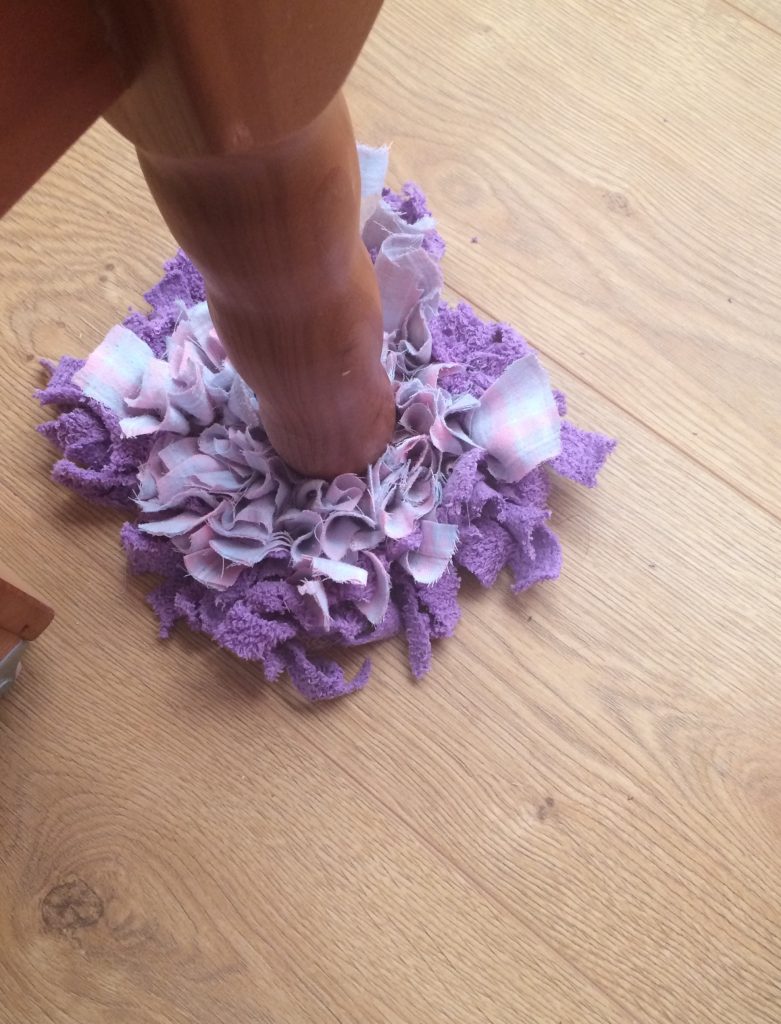 ---
Thanks to Jill Ruiz, of Gloucester, who sent us a pic of her recent rag rug making workshop. The pic shows the group saluting with the ruggers we sent, and arrived in the nick of time, after a problem in the post. The rag rug makers all look like they're having such a good time we asked it we could publish the pic. Thanks for saying 'yes', Jill. Long may the rug making fun continue!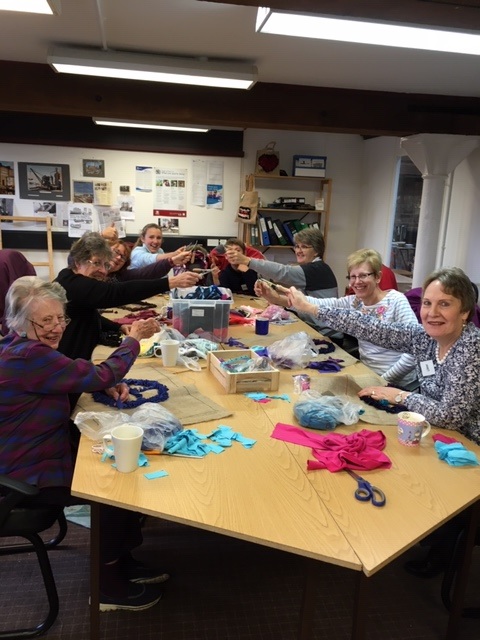 ---
We do appreciate your support, we have been making our rag rug tools by hand in a shed in Cornwall for over 26 years, and each tool is hand tested before we send it on it's way to a new home. We use sustainable beech and only use upcycled cloth on our rugs. No materials are imported and we buy local, therefore we keep our carbon footprint low.
Did you know that many charity shops have clothes and duvet covers that are unable to be sold due to missing buttons, broken zips etc. This material gets sold in bulk for paper making, but they are often happy to sell it at a very cheap price, just ask in your local shop. It's already washed and ready to use for your next project!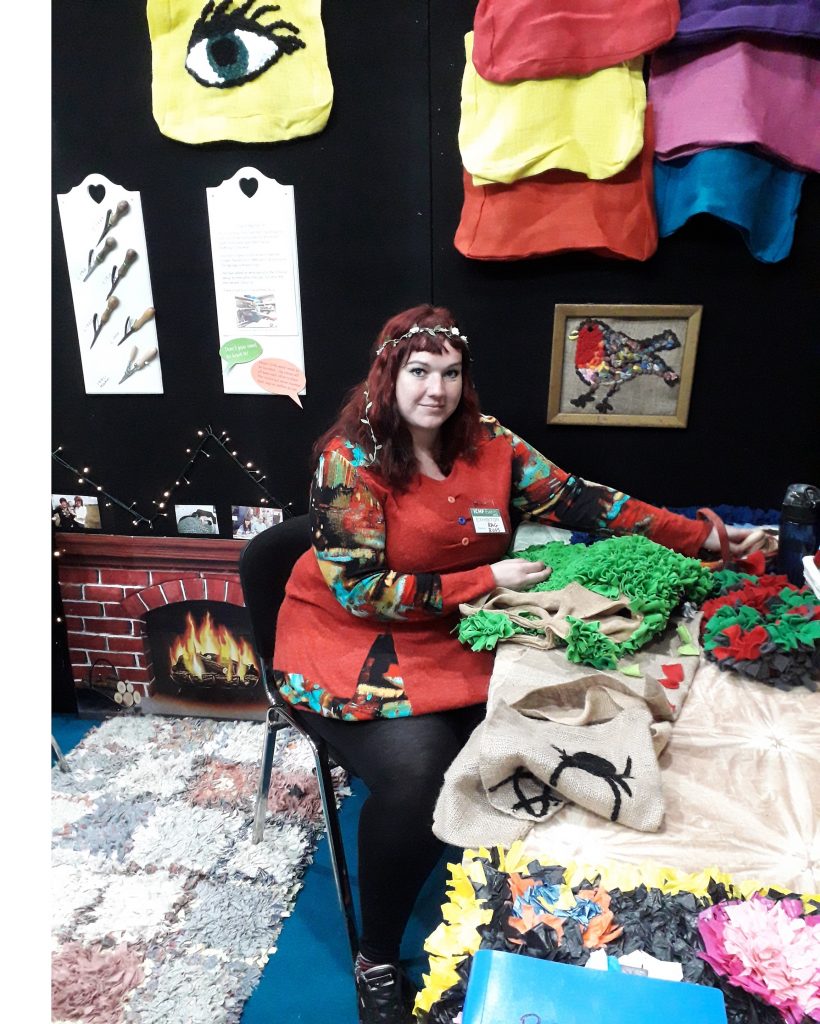 ---
Chris Corey, rag rug maker and teacher, has another string to her bow – she also makes mosaics using up-cycled broken vintage china. She has her own website for it [fragment2form.co.uk] but now also has some of her work in our shop on this site, because we have secure status. The mosaics are all on page 2 of our shop.
---
Thank you very much to Philippa Lowe for sending us this pic of the rag rug she made, in sea colours, at Branscombe last week. She took the pic on the beach where it goes perfectly. What a brilliant idea!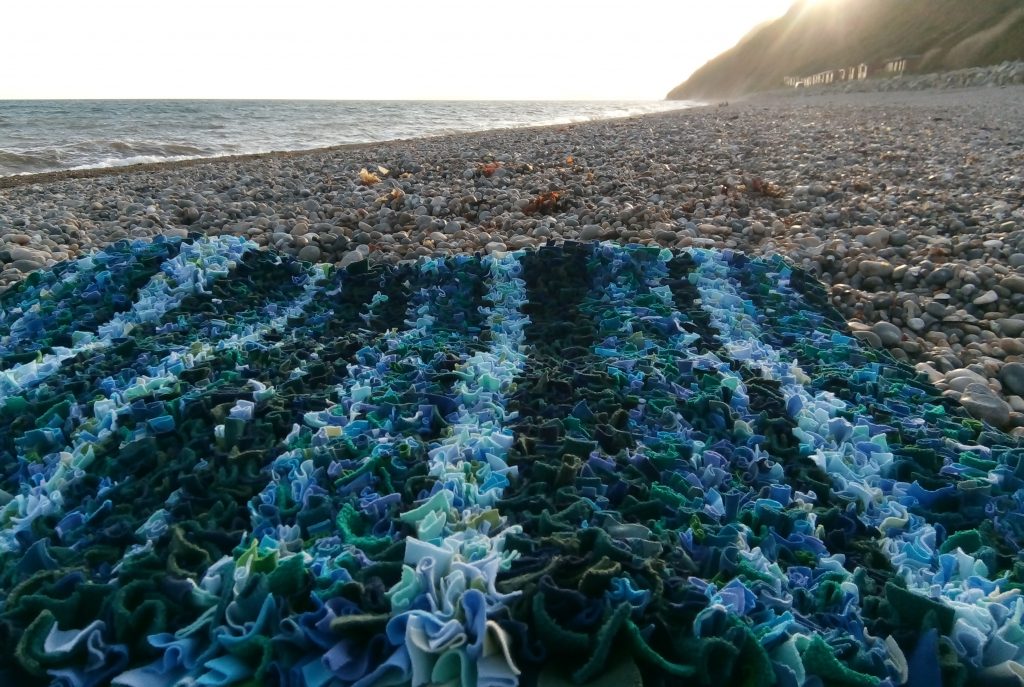 ---
Brian Naylor kindly sent this picture of an amazing angel made for his local church last autumn. It's made entirely from recycled materials and stands 4′ 6″ high!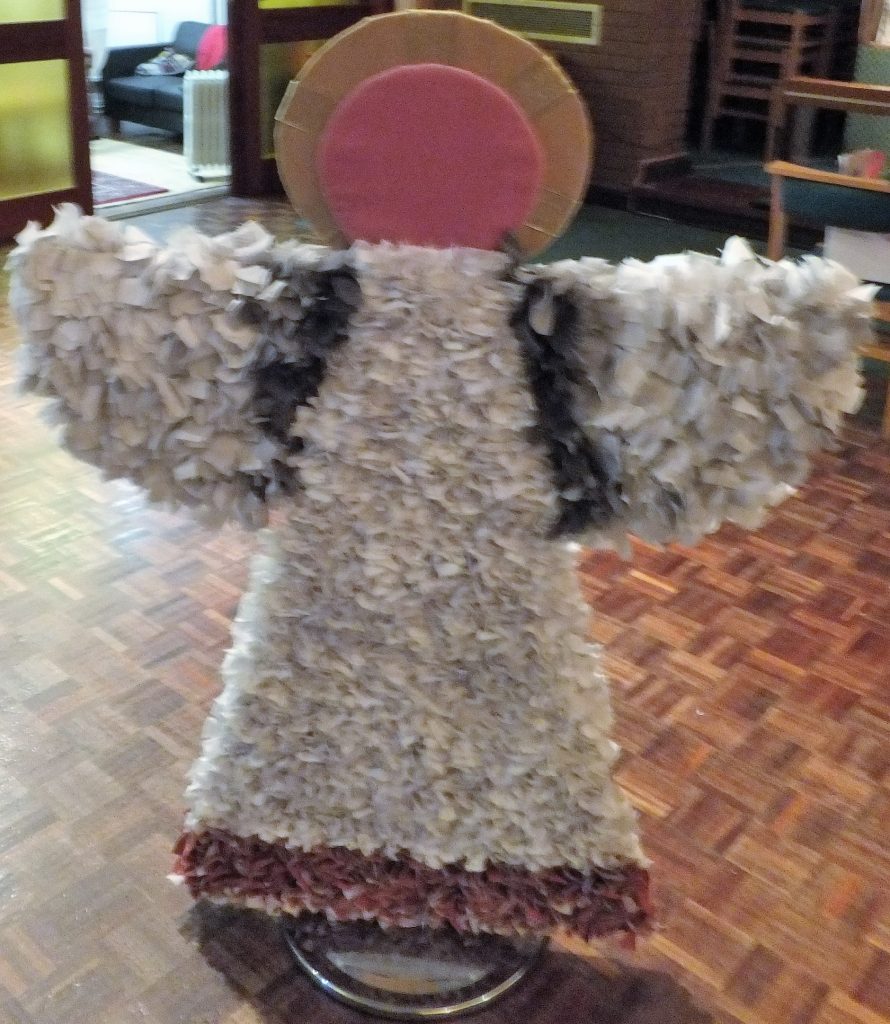 Thanks Brian, it was angelic of you to send this!
---
Thanks to Jane Mitchell for the pic she's just sent us of her first rag rug. Jane said:
I visited the craft show in Manchester on 1st February and bought one of your rug making kits. I've always been fascinated with rag rugs and something I've always wanted to do.
I'm sending you a picture of my first attempt, I finished it yesterday.
Many thanks for inspiring me to do this most enjoyable pastime.
Kind regards, Jane Mitchell
Thank you Jane! We love your rug – you obviously have an eye for colour.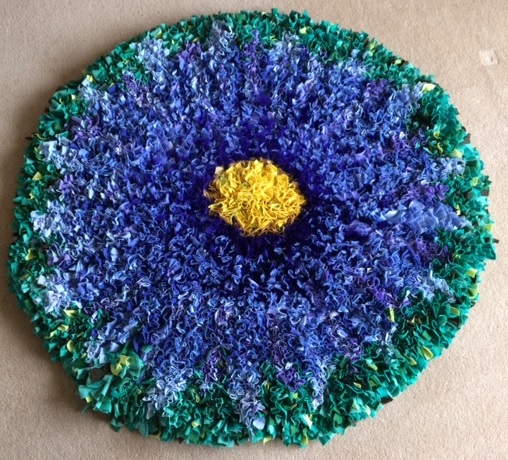 ---
---
Some of the latest pics visitors have kindly sent us. Plenty more in our

Gallery
We've had a pic very kindly shared with us, by Pam Bolton, of her amazing rag rug. Pam uses our standard hook and our new fine hook. Here's her incredible rag rug Queen of Hearts: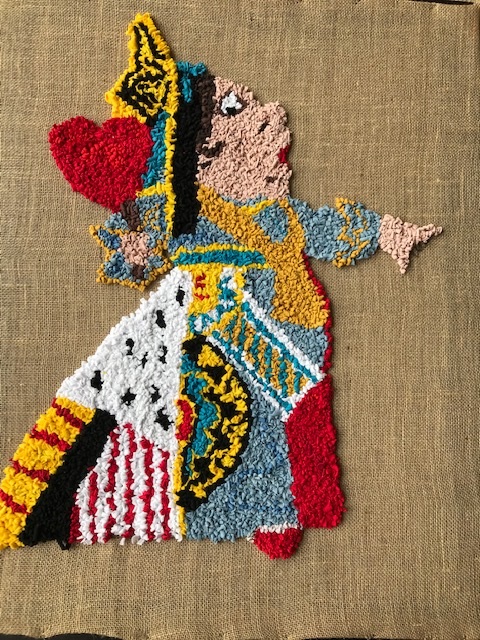 Pam runs workshops beside the Carlisle Settle Railway line. She can be contacted by email [pamelabolton@hotmail.co.uk]. 
---
Thanks very much to Sheena Groom who visited the rag rug making stand at Manchester's Event City and, later, sent this photo and comment.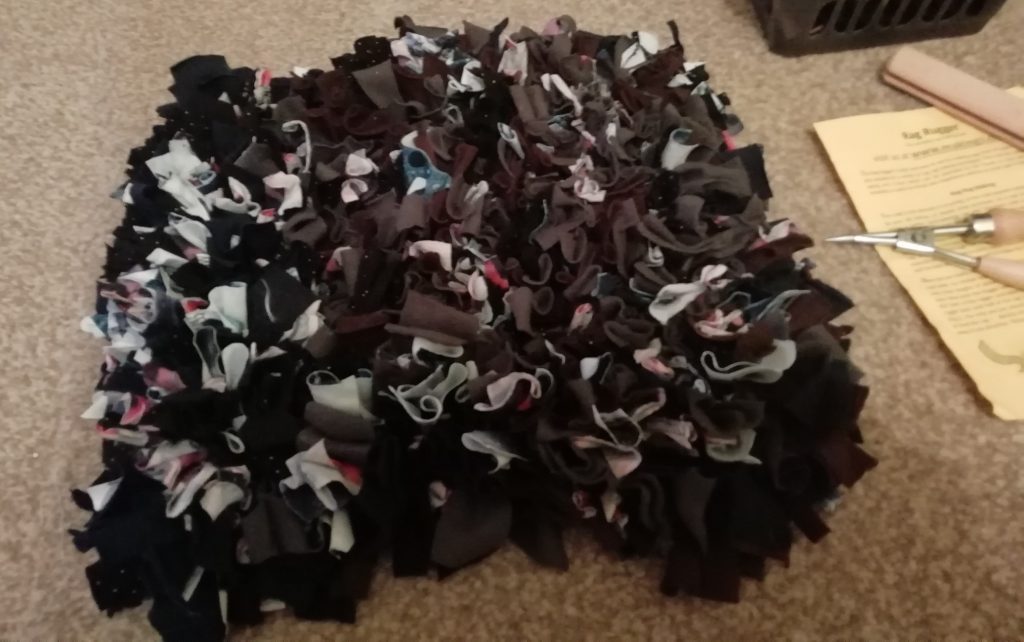 Sheena said:
Hello, I was chatting to you on the stand on Thursday [Feb 2019] at event city. I was talking about the cute doggy piccys. I've bought a kit at previous show n just finished a small rug for my cats bed. You'd said to send a piccy, so ere it is! Lol, not big but I'm pleased with it. The tools are great and easy to use.
Thank you
Somebody has to say it…That rug looks purrrfect for a cat's bed!
---
Writing on the rug
Janet White sent us a pic of her latest rug. Clever stuff and a beautiful rug. Her take on tile art. Looks like Janet's made rag rug making mightier than the pen!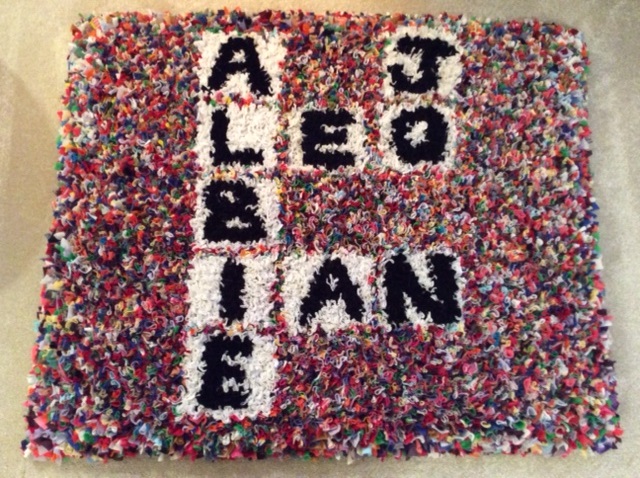 ---
Sandra Smith sent us this email: "Thank you for the super fast delivery of my rag rugger tool, I am eager to put it to good use very soon. I have already made two rugs from Harris twead fabric which is just waste from my sons upholstery business.So it's win win as nothing going into landfill and it is making a useful rug at no extra cost."
Sandra also sent us these two pics [pretty good use of scrap material!]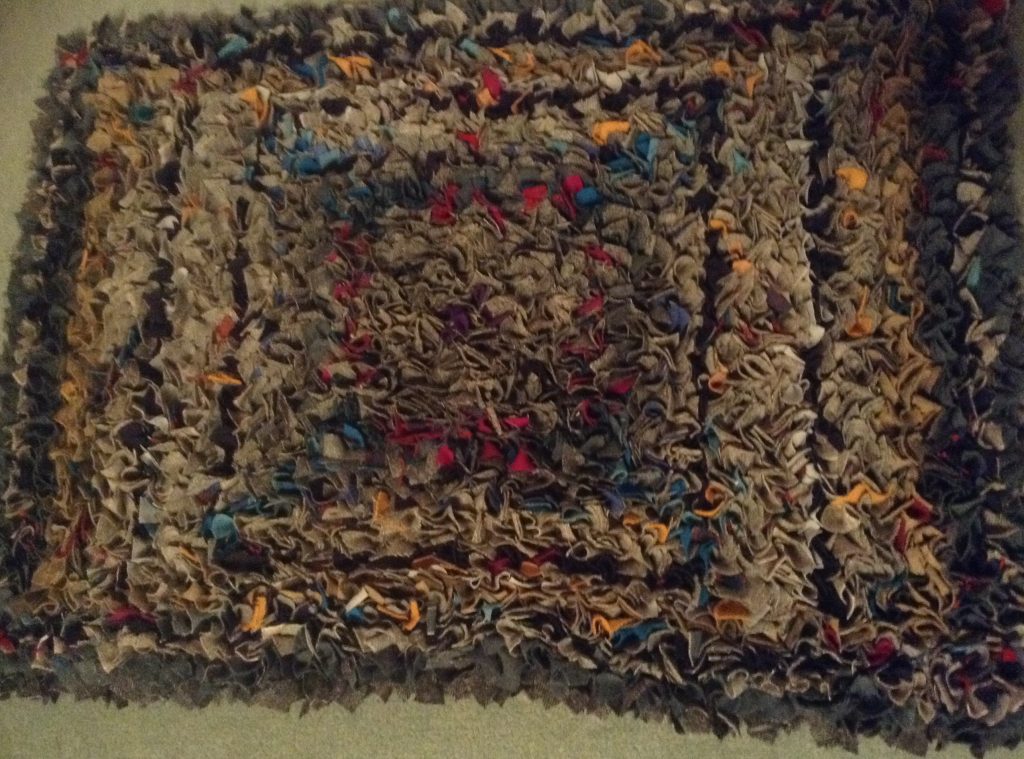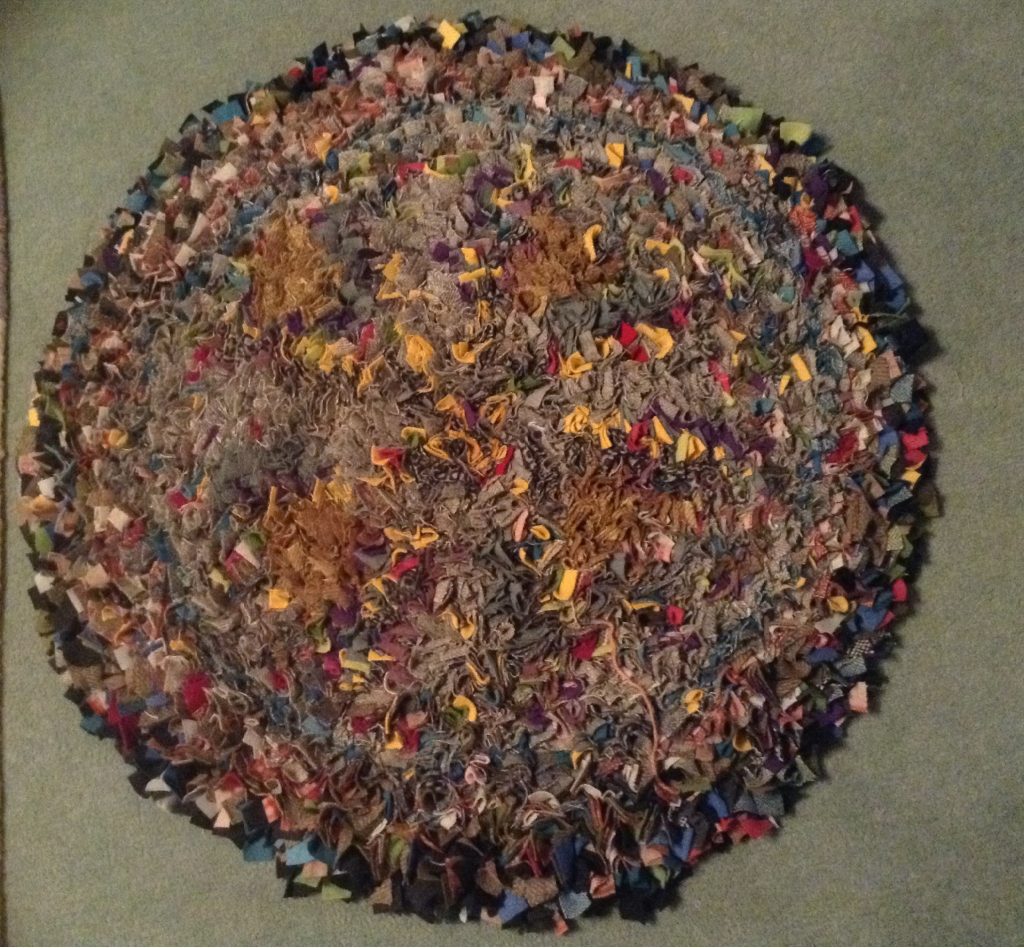 ---
A rag flower
Latest pic from Ruth Bartholomew just goes to show rag rug making doesn't have to be for something to stand on, it can be 3D art!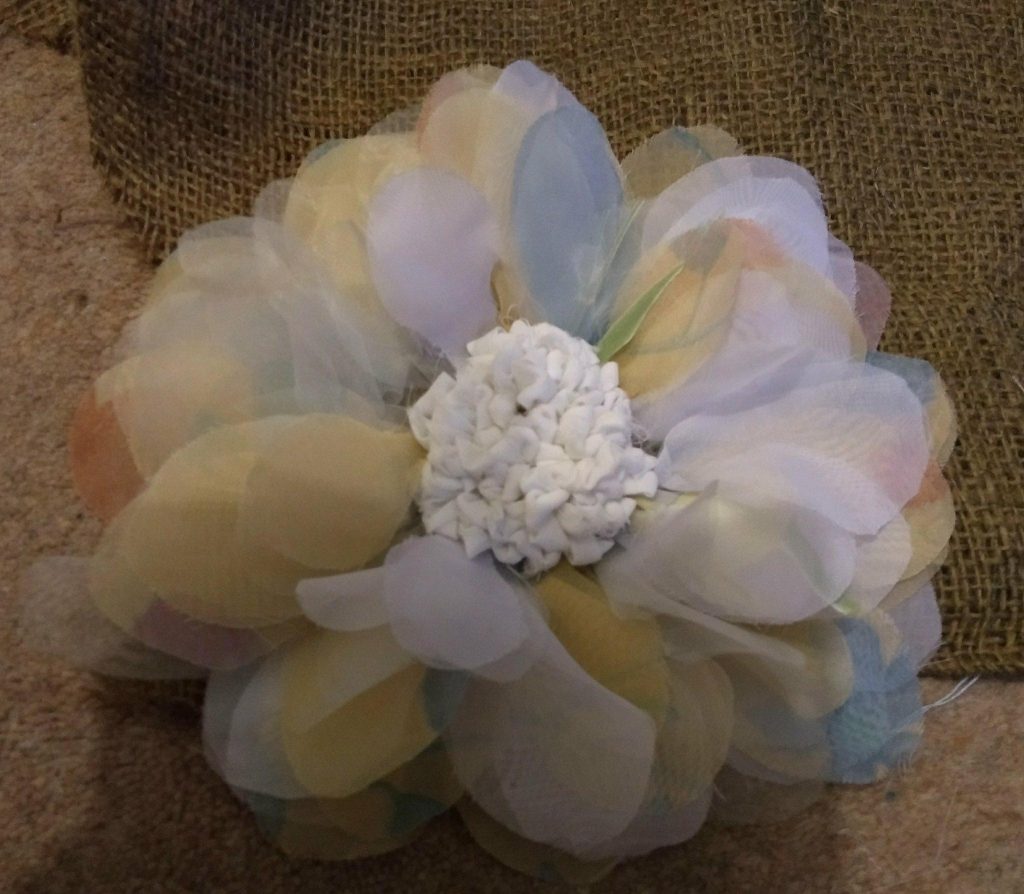 ---
Making best use
Ruth Bartholomew kindly sent us these pics of 3 rugs she's made. Ruth says she cut old garments into long strips for crocheting and uses small pieces for making rag rugs. We like that – nothing goes to waste!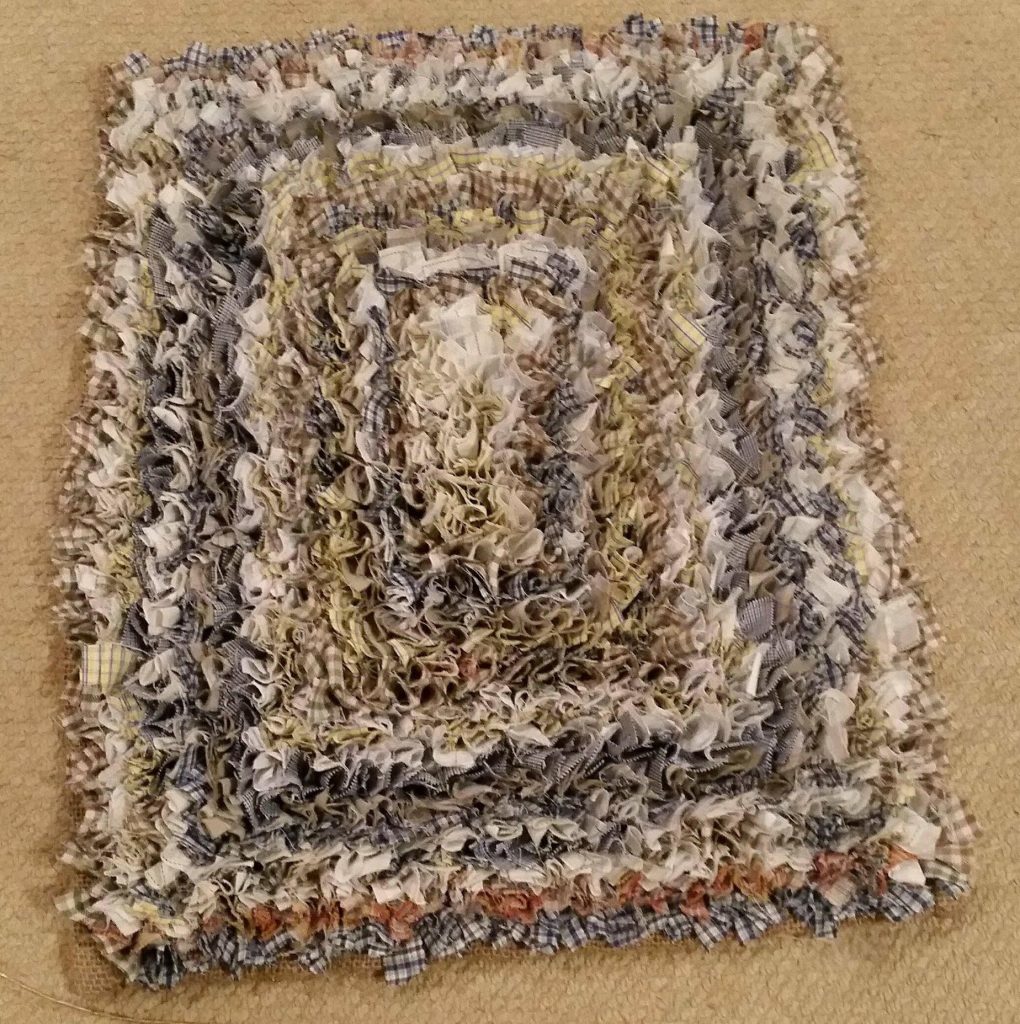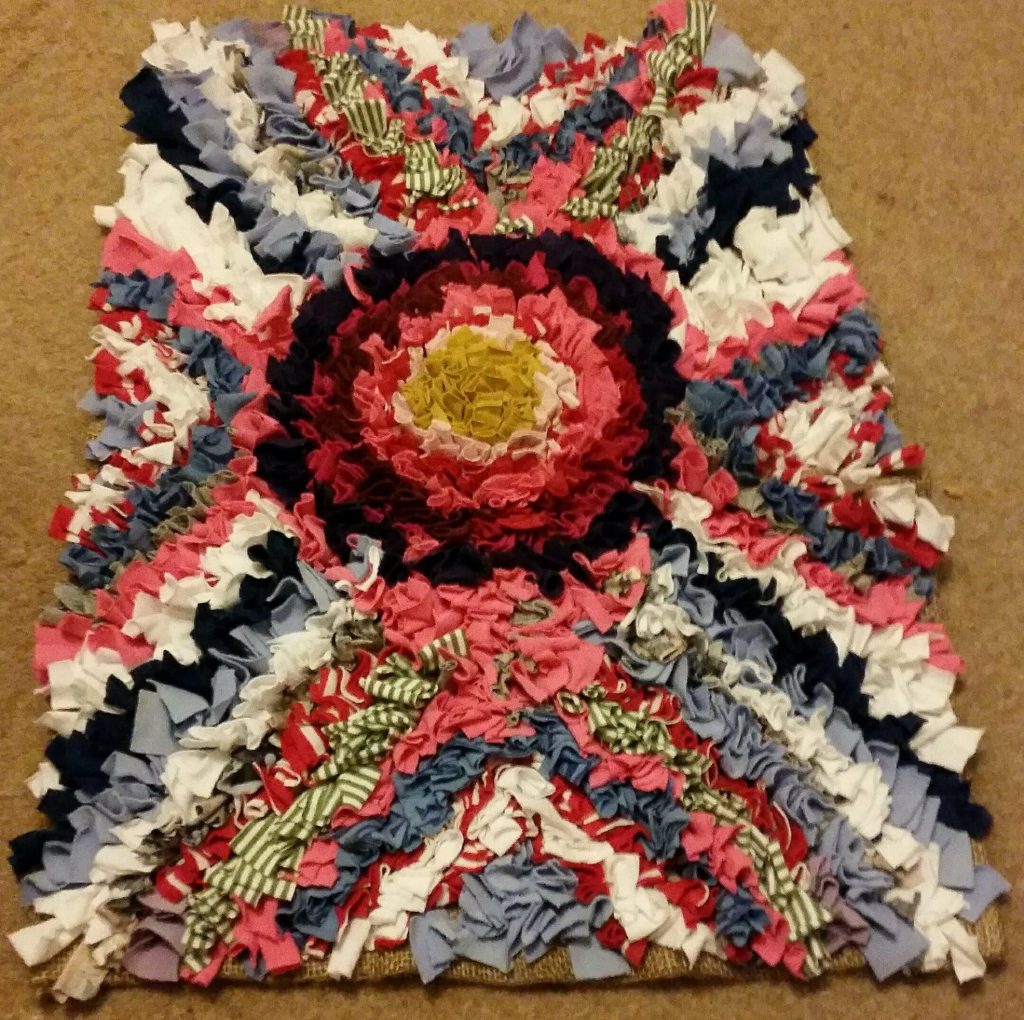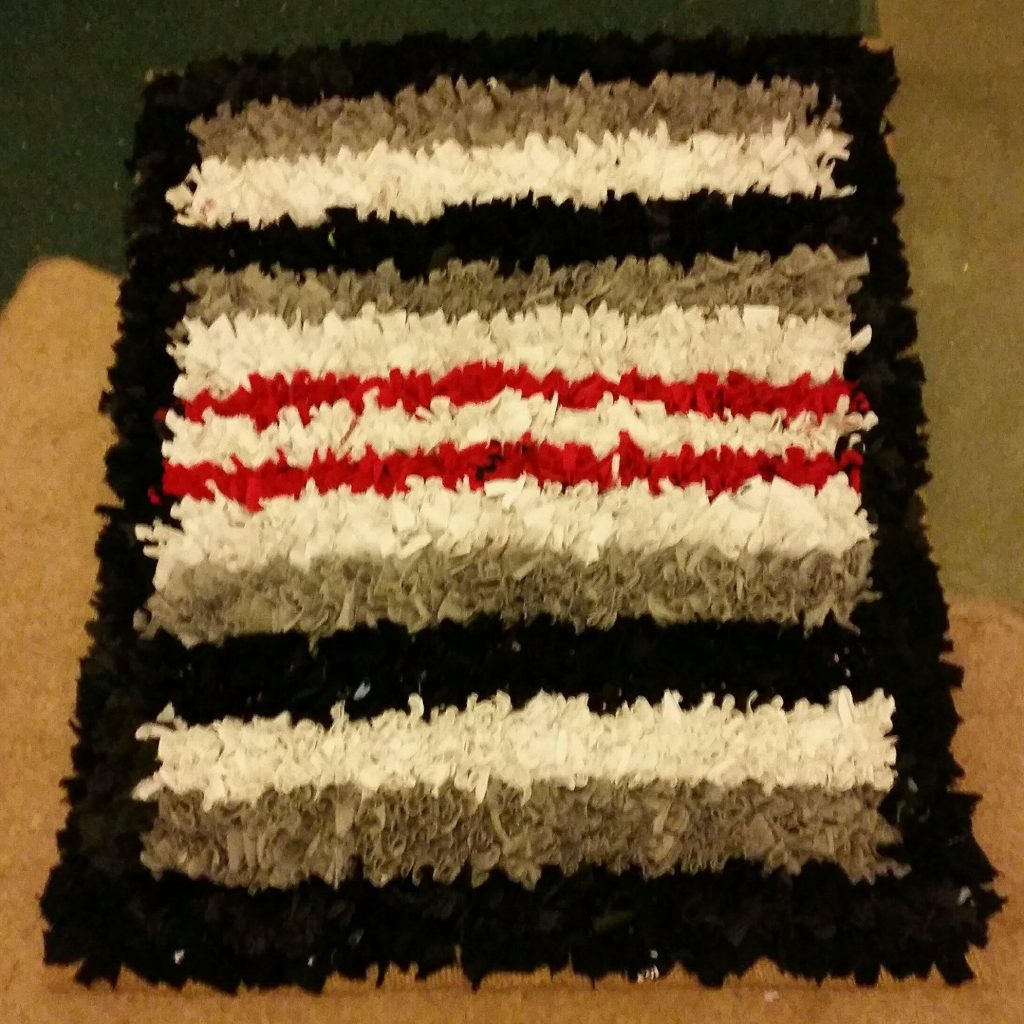 ---
It's amazing what a bit of rug hooking can do!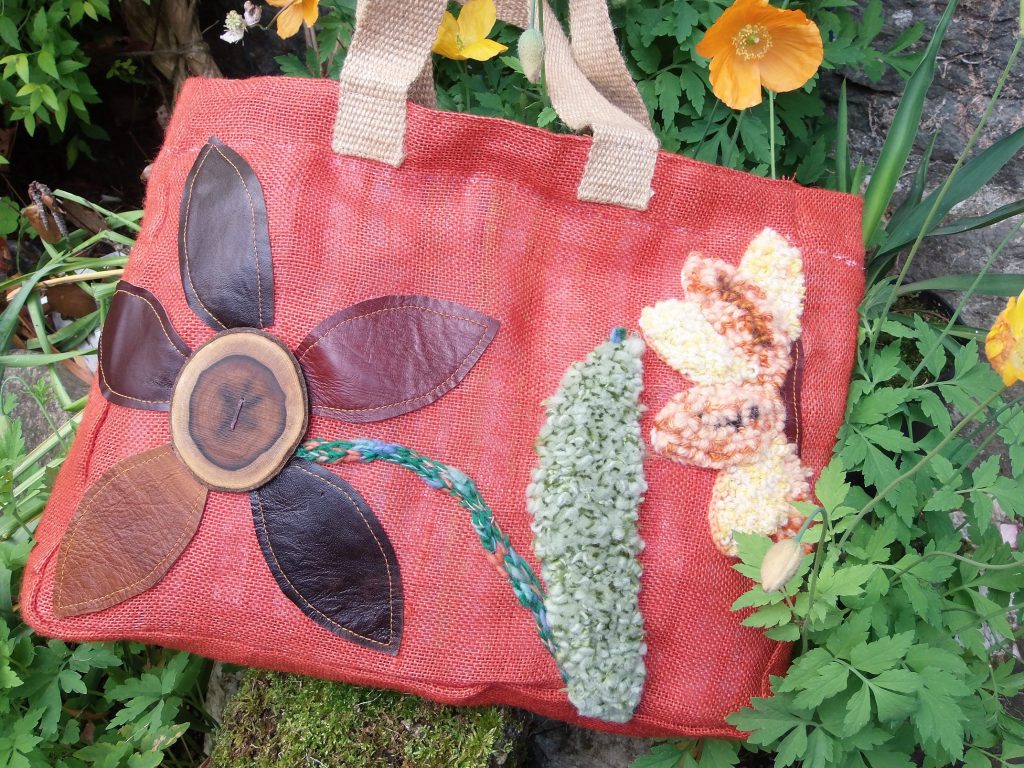 Bag decorated by Jude, in Gwynedd.
---
---
Rag rugs, rag rugging, rag mats, clippy, spring clip, clootie, proddy, proggy, bodged, peg, pegged – call 'em what you like, this site is all about the old favourite 'hard times' rag rugs and how to make them. We make a range of rag rug tools to our design including our rag rugger [as used by Kirstie Allsopp on her craft series a little while back], cutting gauge, hook and more. We can also offer expert advice on virtually all aspects of rag rug making. We've made all the tools ourselves for over 25 years when we revived the traditional UK 'hard times' craft by redesigning the Victorian tool for the modern age, it still works in exactly the same way though.
Please visit our Facebook page and add your comments, questions, likes and images of your own rugs. We are also on Twitter.
---
How to contact us
Phone: 07796 112366 / 01566 779136
OR